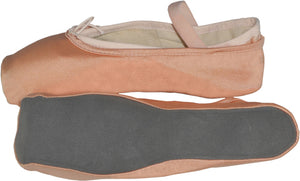 Pillow from Pointe Shoe Covers protect your shoes before a performance or class. The Nylon and Spandex cover has an attached ankle elastic, and an anti-slip sole. Attractive Universal Pink color. Four sizes for a better fit.

Color: Universal Pink

Size: Large fits 8-9 shoe

The fit information is a general guide for pointe shoes since most manufacturer's shoes fit differently.